With the intention to facilitate the life of you, our valued customers, we are proud to offer you our product, the "SUN Brushes for concrete production machines", with the usage of them from now on your forms will be very clean. For every type and any size of any machines we offer brush equipment, produced of hard plastic to serve the purpose to eliminate stubborn stains definitely.
Sun Strip Concrete Paving Machine Brushes
---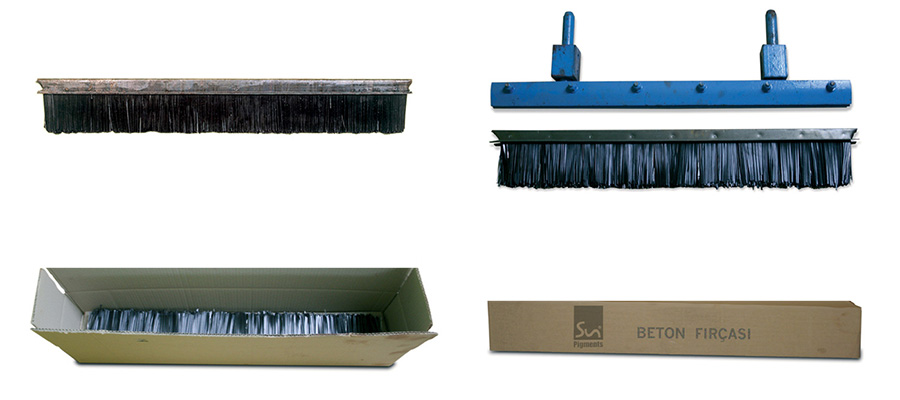 These brushes are produced by pressing the bristles among sheet metal, by which the production in required sizes is achieved. In this system there is no gap between tuft of hairs and the brush is contacted all surfaces in used area. In production of this type of brushes DKP sheet metal or galvanized stainless sheet metal are used according to requirement of the customer. Plastic and steel wire are used as bristle and strengthener respectively.
Order Now
SIZES OF STRIP BRUSHES
Length (cm)
Height (cm)
Dimension (cm)
140
12-27
2.2
135
130
125
120
115
110
90
80
70
Sun Fringe Machine Brushes
---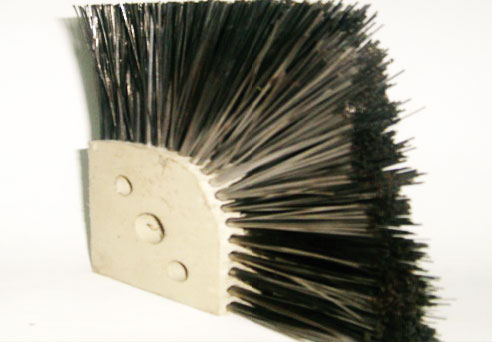 According to type of the machine to be used they are produced in sizes and qualities required by the customer in two methods: Strip or Chock. In strip brushes the length of the bristles is longer than classical stripes. In chock brushes the part of chock is made of PVC or polyamide. Steel wires are used as bristles.
Order Now
SIZES OF FRINGE BRUSHES
Width (cm)
Height (cm)
Thickness (cm)
Length of Bristle (cm)
5
8
2.2
8
6
8
8
6
9
9
7
8
8
7
9
9
8
8
8
8
9
9
9
9
9
9
10
9
9
11
9
10
10
10
10
11
10
Sun Roller Concrete Paving Machine Brushes
---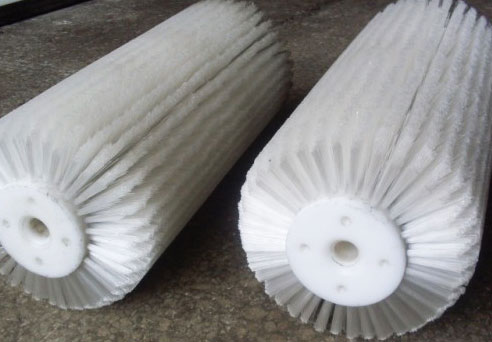 The roller brushes are made-to-order in various diameter, length and qualities. The shaft of roller brush can be made of iron, aluminum, stainless and similar metals. The bristle is placed on PVC ground and the production is carried out by using that type of bristles desired by the customer. The roller brushes that are being produced by our company are prepared in demountable system, and after long term use the finished bristles must be replaced which allows maintainability with minimum cost.
The roller brushes are produced in full length (classical system) and offered to market by our company, on the other hand after long researches and investment to machines the partial system roller brushes have been offered to your dear valued customers admiration and usage. Our partial brushes are made of moblen plastic bristles and each part of them is 100 mm width, the most worn-out part or the whole part can be replaced and renewed. Apart from this, when the classical type brushes expired, they are completely disposed of together with its metal shaft, in partial type brushes only worn brush part is discarded. By replacing the parts, when they become worn out, very long time usage is possible only one payment for metal shaft by the user. For this reason; we are proud of offering you our partial system roller brushes which are easily mounted and replaced, allow you to use your brush with maximum efficiency and very economic during replacement.
Order Now
ROLLER BRUSH SIZES
Brush Shaft (mm)
Brush Pipe Size
Brush Pipe Type
Brush Size (mm)
Brush Bristle (mm)
Brush Bristle Type
Q48 x 1997
Q50 x Q75 x 1000
PVC
1000
0.80-1.20
Moblen
Q50 x Q75 x 1100
1100
Q50 x Q75 x 1250
1250
Q48 x 2197
Q50 x Q75 x 1300
1300
Q50 x Q75 x 1500
1500
Q50 x Q75 x 1700
1700
Rodless
Q50 x Q75 x 100
100
Q48 x 100
Multiplies of 100 mm free measure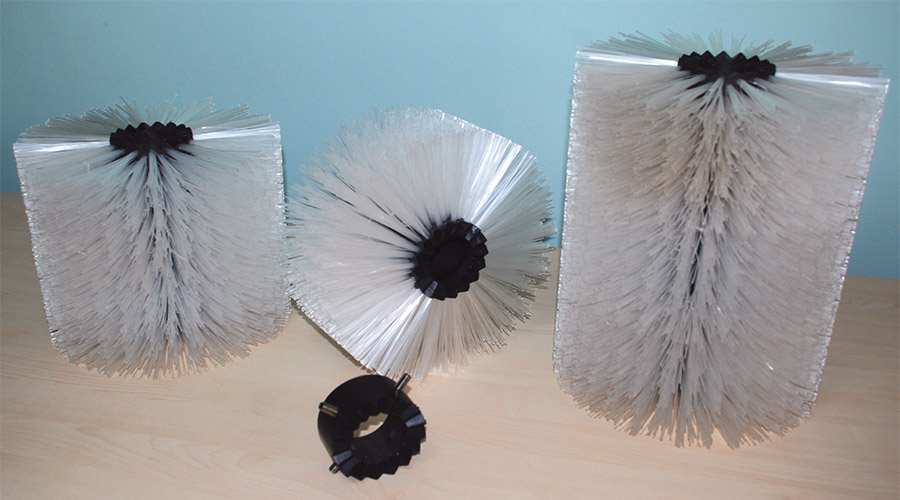 PARTIAL SYSTEM ROLLER BRUSH SIZES
Brush Pipe Size
Brush Pipe Type
Brush Size (mm)
Brush Bristle (mm)
Brush Bristle Type
Q50 x Q75 x 100
PVC
Q250 x 100
0.80-1.20
Moblen